CL DrawingEngine
CL DrawingEngine is a Java library which can be used to easily and quickly develop powerful compoments for any kind of graphical visualisation. The intention of this library is to provide the application developer with an easy-to-use programming interface, so that he can concentrate on the specific visualisation and user interaction requirements of the application, whereas the CL DrawingEngine takes over the task to do all the underlying necessary functionality to draw and handle interactive user requests. Using CL DrawingEngine development times for any kinds of more model based complex visualisation tasks or graphical editor components can be drastically reduced.
CLDrawingEngine is completely written in pure Java, so it is available for all relevant client platforms like Microsoft Windows, LINUX, UNIX and Apple. The deployment of CLDrawingEngine is done simply by deploying one JAR-file of less than 300 kByte in the applications classpath, so that it easily can be integrated in any standard installation procedure.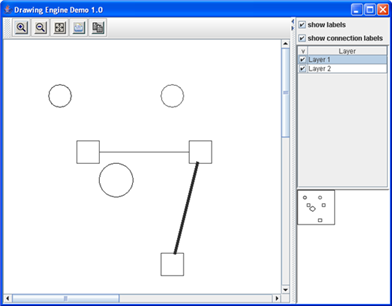 The functionality and features of the CL DrawingEngine are based on more than 15 years of experience in the development of interactive graphic applications, so the developer using CLDrawingEngine benefits from huge feedback from application users.
More detailed information can be found in the CLDrawingEngine White Paper
copyright © 2006 - 2023 by CL Solutions Doris Chu & Thomas Langhagel GbR